Product Information
Record in all directions with two 360°lenses
Record outside and inside of the car with dual 360°lenses. This allows you to record forward and rear facing perspective, as well as side views and the driver's footage.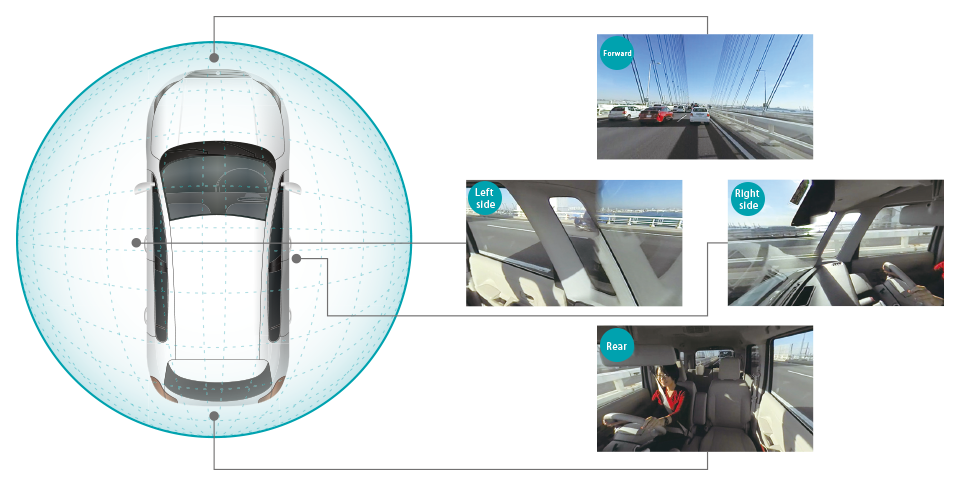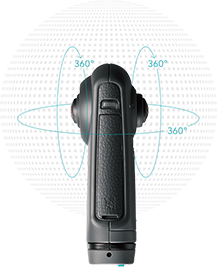 Against Road Range with recordable 360 degree inside and outside your car.
Good proof for road rage, pulling over and interruption because of recording both rear and the road front, and also checkable the driver's footage.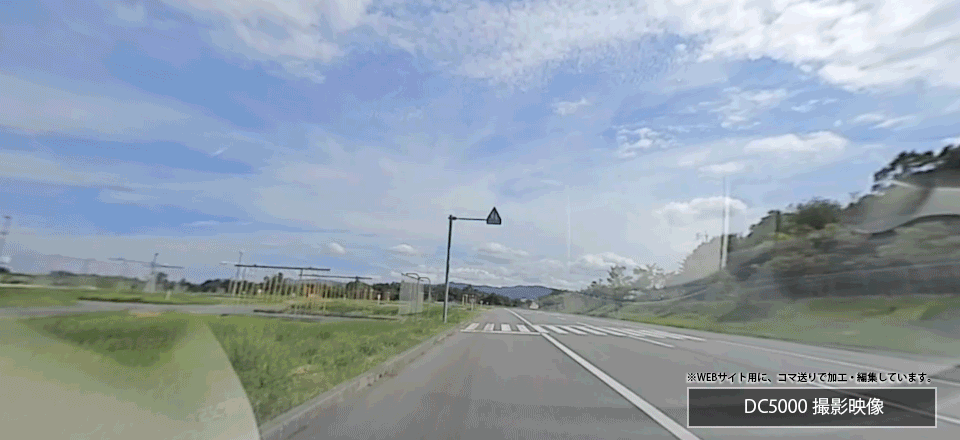 Record the road ahead in higher definition by "Dual-recording function"
Patent Pending
Capture the road ahead clearly by recording the front facing footage separately in higher definition versus the 360°x360°view recording.
Play back the recorded videos
with your smartphone at once
Play back / download the recorded videos and images wirelessly to your smartphone. Play back as "Original" view and no distortion "Angle-cut" view.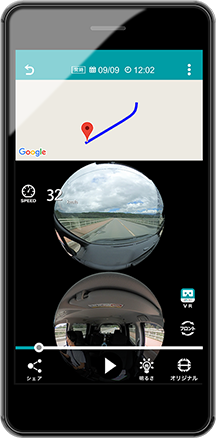 * High specifications are required for image processing of 360-degree video. Please confirm you have a compatible smartphone.
Brightness adjustment in
smartphone app
You can play back the recorded video with changing the brightness in smartphone app.
The video data at night will be visible by increasing the brightness.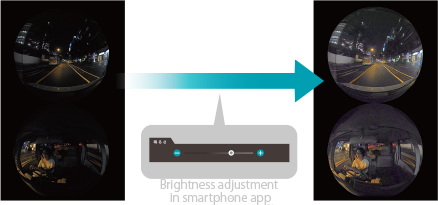 Capture door dings during the time
your car is parked
With Parking Option (sold separately), you can get 360°surveillance, even when the engine is turned off. The camera records in all directions. Captures any possible door dings, scrapes or hit-and-run incidents.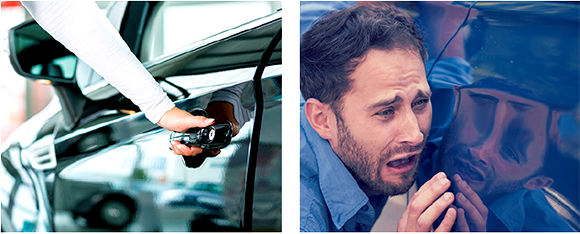 Parking Mode can work for max.
2 weeks by changing the Recording Modes
1. Continuous Recording Mode (Up to 30 minutes) : carry out both Parked Continuous Recording and Parked Impact Recording (before and after impact).
2. Impact Mode (Up to 16 hours) : carry out Parked Impact Recording (before and after impact)only.
3. Energy Saving Mode (Up to 2 weeks) : carry out Parked Impact Recording (after impact) only.
Anti-theft warning LED light
LED light is activated when impact is detected in Parking Mode. The crime-prevention effect will be improved.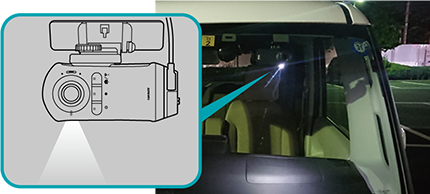 Convert to an action camera with Battery Option
With Battery Option (sold separately), the camera can be taken outside the car to use as a portable 360°camera. You can use general attachment via tripod socket in the bottom.
Voice notification for SD card status
The status of SD card which are difficult to see will be noticed by voice, such as "SD card not found", "Please format the SD card".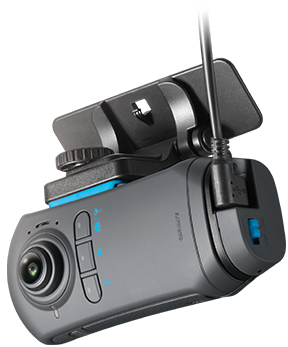 Geotagging
By receiving signals from the GPS, GLONASS and the Michibiki Quasi-Zenith Satellite System, highly accurate geotagging (geographical identification metadata) is calculated.
*Geotagging may be inaccurate in areas such as tunnels where signal is obstructed.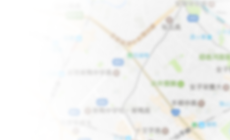 Brightness adjustment using WDR
WDR (wide dynamic range) technology adjusts the brightness of video recorded in light or dark places, reducing overexposure by headlights, etc.

LED traffic lights
d'Action 360 employs a 27.5 fps frame rate to prevent synchronization with the flickering of LED traffic lights, allowing them to be accurately recorded without discoloration.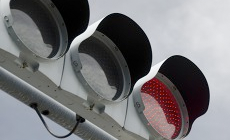 6 recording modes
d'Action 360 has 6 types of recording modes; Continuous recording, Impact recording, Manual recording, Still image capture, Parked continuous recording and Parked recording. Learn more >
Noise reduction
To prevent electromagnetic disturbances from television and radio, VCCI compliant noise reduction measures have been taken within the camera body.
Built-in G sensor
The 3-axis G sensor detects impacts from all directions, and automatically triggers 360-degree video recording.
Cautions (Before your purchase)
* Only use d'Action genuine microSD card (sold separately, Product No. DC3/4/5). Using a non-genuine microSD card may result in possible image and sound recording errors.
* Proper camera installation requires simultaneous checking of images on a compatible smartphone. And to play the recorded video, the d'Action 360 app for smartphones or d'Action 360 software for PC is required. Before purchasing this product, please check the most up to date List of Supported Devices/OS.
* This product is not guaranteed to produce valid evidence as proof for accidents, or to identify license plate, model or color of vehicle.
* This product is not guaranteed to record in all circumstances.
* Car Mate takes no responsibility for any loss arising from the use or failure of this product, or from any damage to recorded video and/or data.
* Do not use this product if the accessory power outlet of your car is designed to not turn off after the car engine is turned off.
* Recording performance and time may vary depending on the object being recorded or on the ambient environment.
* Depending on the ambient environment or geographical factors, this product may not be able to adequately receive GPS signals.
* Using this device near a TV set or antenna, can cause deterioration of reception, flickering and/or noise from the TV set.
* This product is not dustproof, rainproof, or waterproof. Keep it away from water and other foreign matter.
* Do not mount the camera between the windshield and the sunshade to prevent heat from storing in the camera.
* This product is for use only in Japan, USA, and Hong Kong.
* This product should be mounted in a position that meets all vehicle safety, local and state laws:
[*Mounted camera does not interfere with the driver's vision and operation of the vehicle.
*The mounted camera does not block the rearview mirror or obstruct the vehicle's airbags.
*The camera is mounted within the upper 20% portion of the windshield. (Fig.1)
*The camera is mounted so that its lens is within the wiping range of the windshield wipers.
*The tape on the mounting bracket of the camera does not overlap any heated wire printed on the windshield or antenna.
*If additional security or safety cameras are already in place, the camera to be mounted should not be within the view of such camera."]