Product Information
"Industry's First*"
New Structure,
"ARF" Dash Cam
DC4000R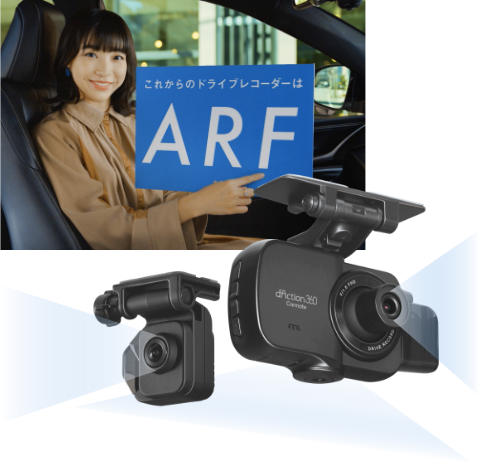 Dash Cam with three cameras: Around (360° camera),
Rear (rear camera), and Front (front camera).
A completely new dash cam that does not compromise
on high quality recording of the front and rear of the vehicle as well as
360° recording of the side and interior of the vehicle is finally available.
*First in the industry: Car Mate's own research (as of November 2021)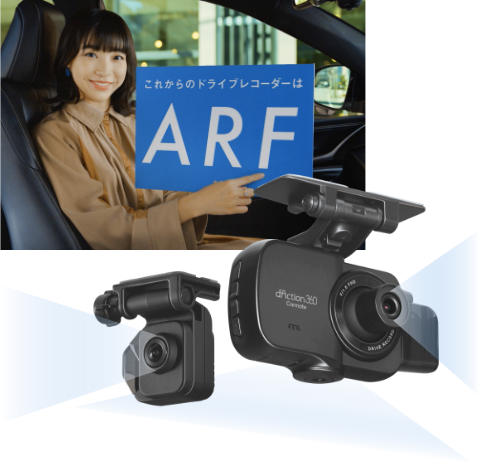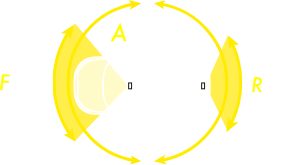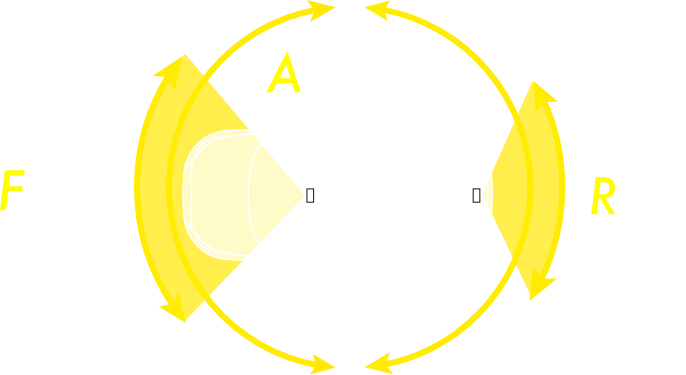 360° dash cam with clear recording of license plates in front and behind the vehicle

The 360° all-around camera captures the surroundings without interruption. The camera also captures incidents on the side or inside the vehicle that would be difficult to capture with only the front and rear cameras.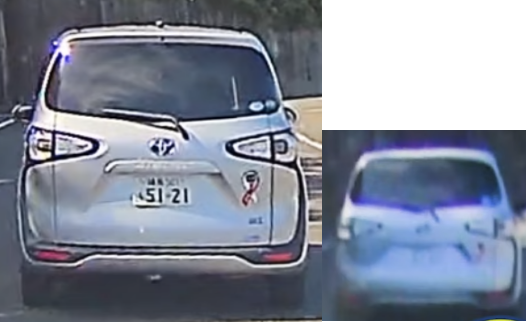 The rear camera, which is compatible with tinted window, and the high-performance front camera, which specializes in high-definition forward recognition, clearly record the status of vehicles in front and behind and their license plates.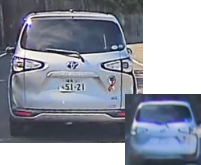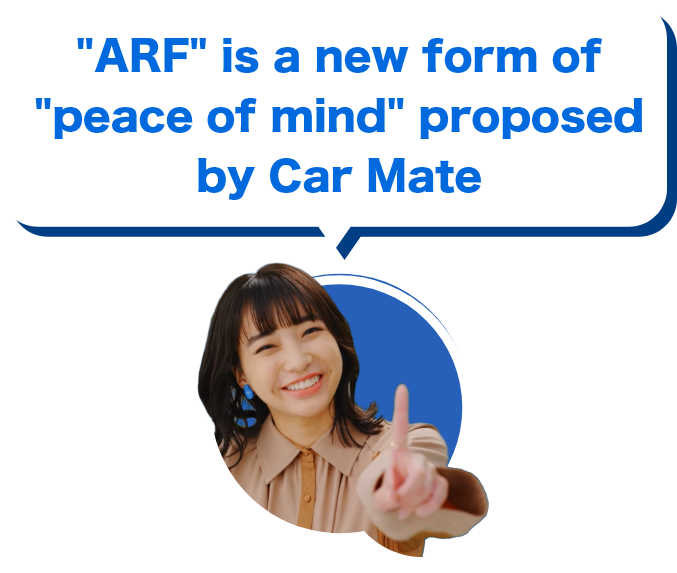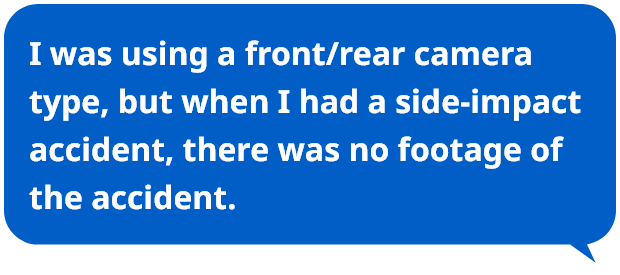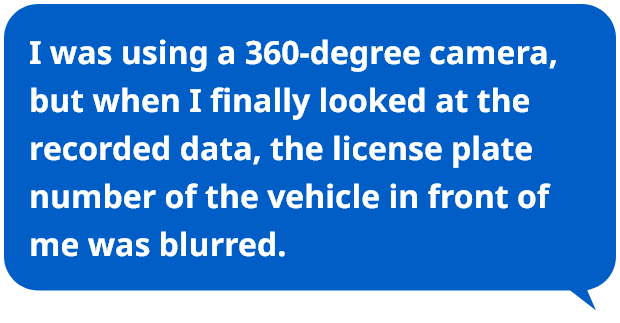 While the number of dash cam users is increasing, we are hearing voices like this.
The "ARF" concept was born out of the conviction that true peace of mind comes from being able to capture both license plate number recognition performance and situational recording, rather than giving up on one or the other.
Simultaneous recording by three cameras with different functions provides a new dimension of "visibility"
The 360° all-around camera, front camera, and rear camera.
The industry's first* three cameras, including a 360° camera, clearly record everything from license plates to surrounding conditions.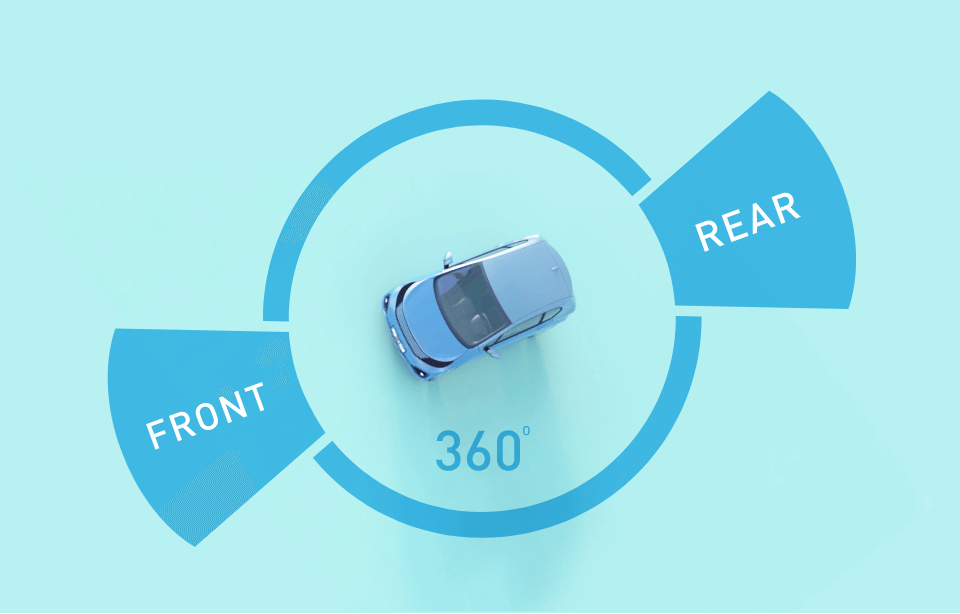 Front Camera

High-performance front camera specializing in precise forward recognition.

MORE

360° Camera

360° all-around camera for uninterrupted perimeter recording.

MORE

Rear Camera 

Combines both angle of view and number recognition performance. In addition, it is compatible with tinted window.

MORE
High-performance front camera specializing in precise forward recognition
■Bright lens with F-number of 1.5
■Narrowed down the angle of view to focus in higher definition recording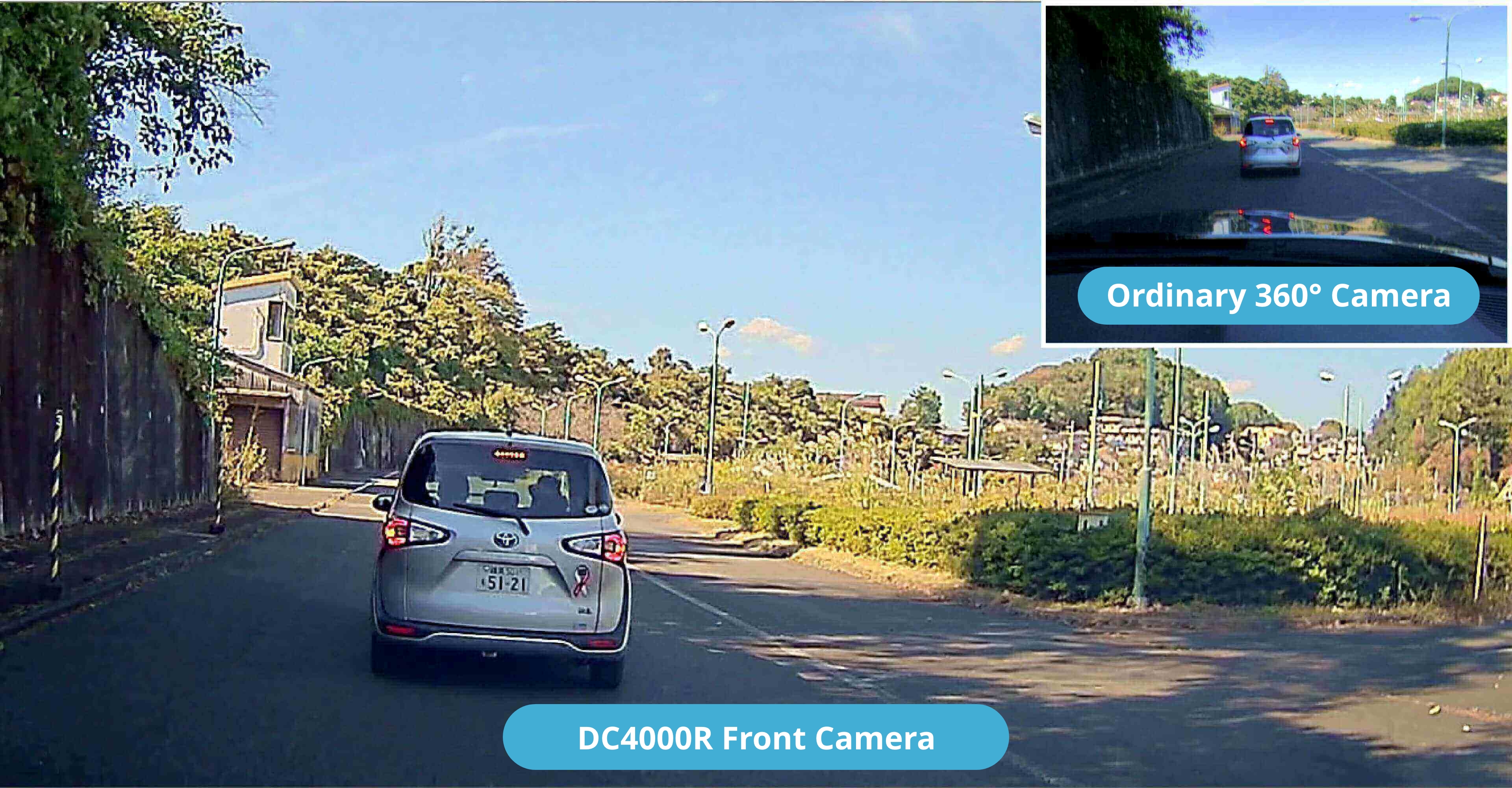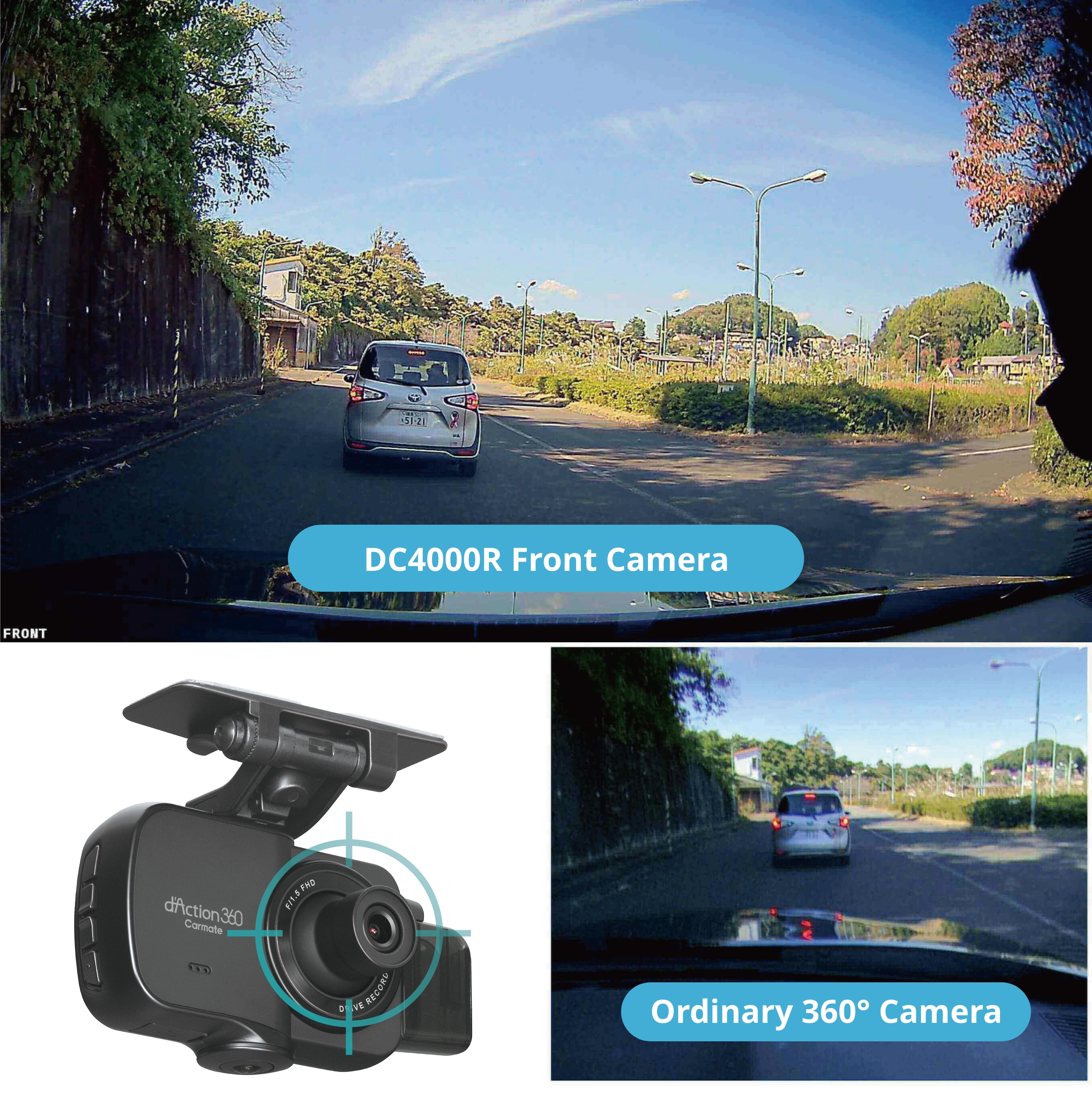 HDR and WDR W-correction provides resistance to white-out and black-out in dark areas and backlit areas.
Ideal for daytime as well as nighttime photography.
white-out and black-out are suppressed, and the view in front and license plate numbers are clearly recorded.

Combines both angle of view and license plate recognition.
Rear camera for tinted window.
High-quality FHD image quality recording of the rear of the vehicle.
Equipped with STARVIS™, which is resistant to harsh conditions such as nighttime shooting and tinted window.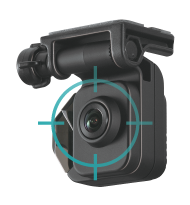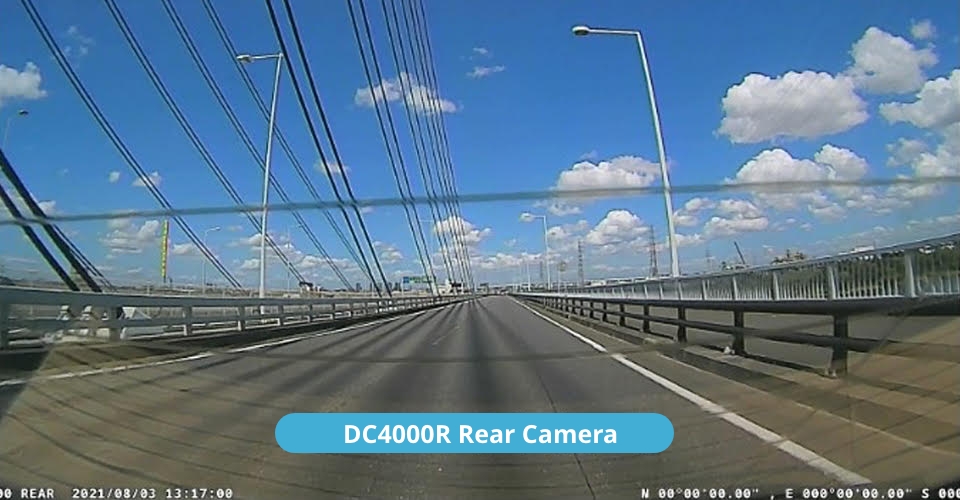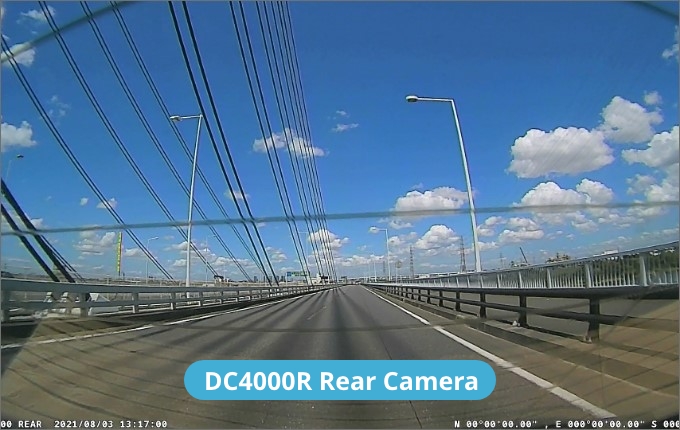 High-performance image sensor
Equipped with STARVIS
The rear camera is equipped with a sensor (STARVIS) that is suitable for capturing images in difficult conditions such as tinted window.
It is compatible not only with factory privacy glass, but also with dark tinted window with a transmission rate of 5%.

*STARVIS is a trademark of Sony Group Inc.
All-around 360° camera for uninterrupted recording
Captures side and in-car incidents that are difficult to capture with front and rear cameras.
Equipped with infrared LEDs for improved visibility inside the vehicle at night and in dark areas.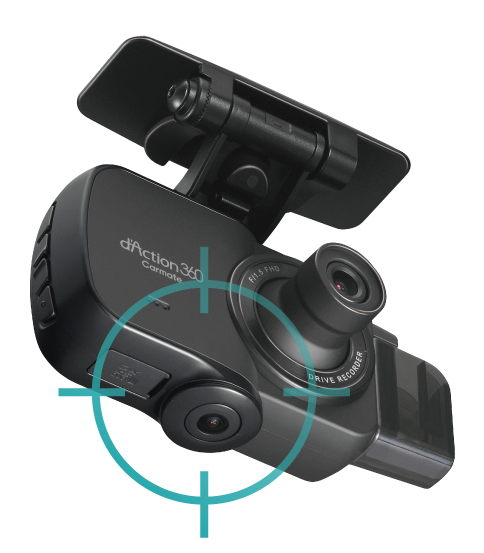 Records conditions on the side of the vehicle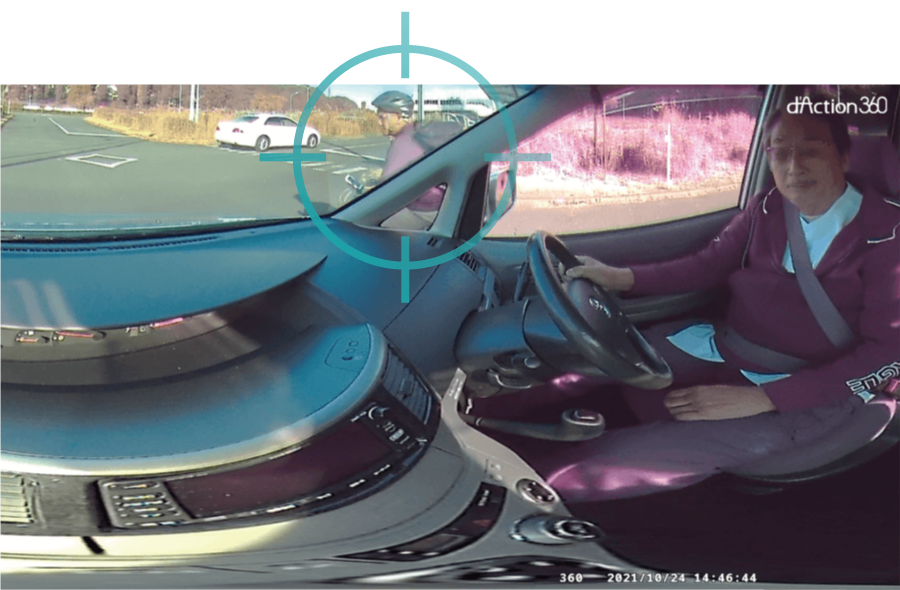 Passing through a vehicle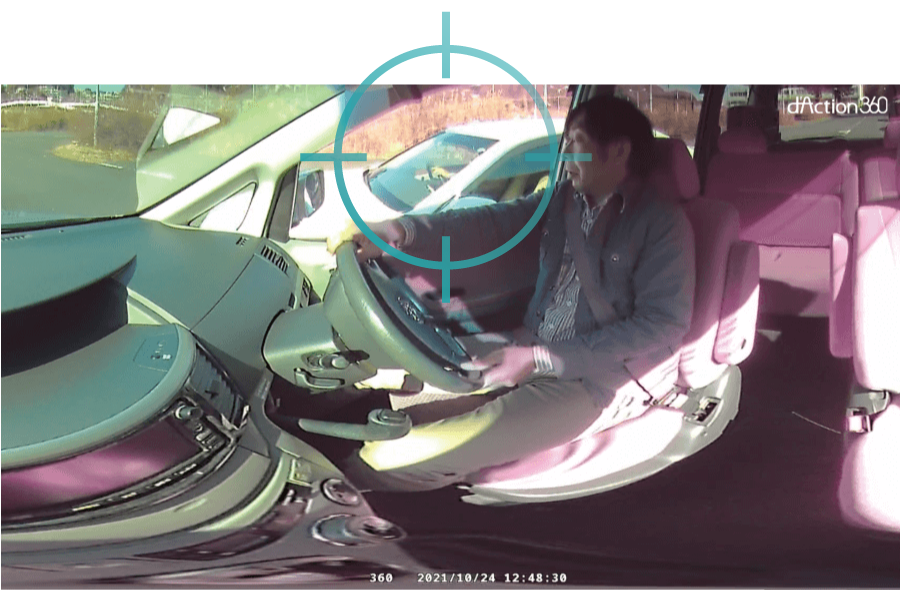 Pulling over
Recording inside a vehicle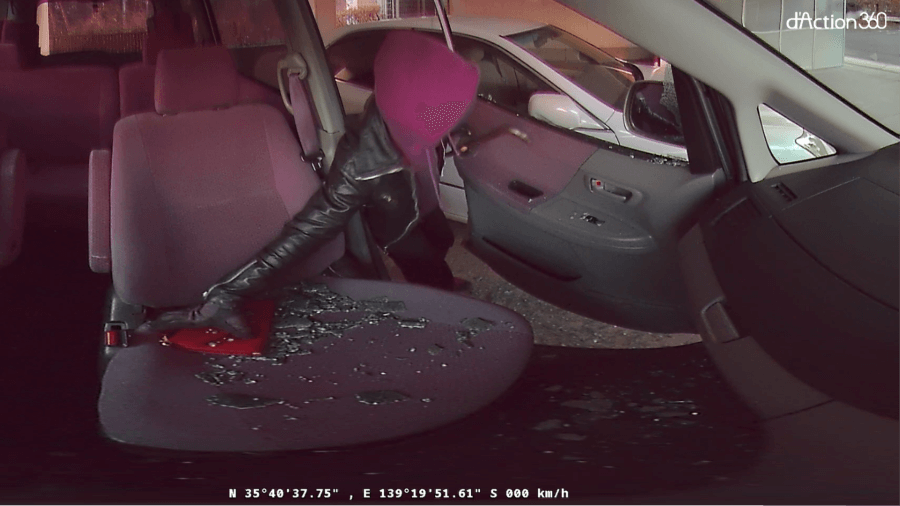 Vehicle vandalism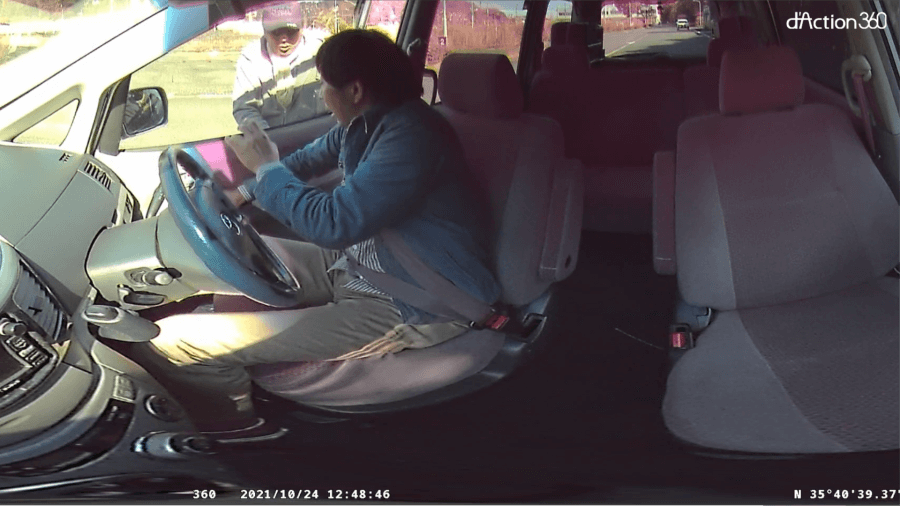 Assault by thugs
Equipped with parking surveillance for 360° monitoring while parked.
Requires the Parking Option (DC203), sold separately.
Parking Monitoring recording detects impacts to the vehicle from hit-and-runs, door dings, and vehicle vandalism.
Up to 12 hours of monitoring with 3-camera recording and up to 48 hours with 360° camera only recording.
Three recording modes to suit your purpose
Before/After recording

The camera records video before and after the point at which the camera detects an impact.
■Recording by 3 cameras
■Up to 12 hours of monitoring
■Records 10 seconds before and 30 seconds after impact detection, for a total of 40 seconds of video as a single file.
■This setting is recommended for out-of-home parking monitoring, where the risk of door ding, hit-and-runs, etc. is high.

After recording

Records after the point in time when the camera detects an impact.
■Recording by 360° camera only
■Up to 48 hours of monitoring
■Records 30 seconds of video as a single file from approximately 2 seconds after impact detection.
■Long time surveillance is realized by reducing the number of activated cameras. This setting is recommended for parking monitoring when home, etc.

Before/After recording + After recording

This recording mode combines Before/After and After recording.
■Choose from (1) 3 hours of Before/After recording + 24 hours of After recording or (2) 12 hours of Before/After recording + 6 hours of After recording.
The large, easy-to-view 2.7-inch LCD screen makes it easy to check video and change settings.
The large LCD screen makes it easy to check playback of recorded video, change various settings, and view notifications of errors and other problems.
A button operation guide is displayed on the right side of the screen, allowing easy navigation.
The brightness of the LCD screen can be adjusted and set to show/hide during operation.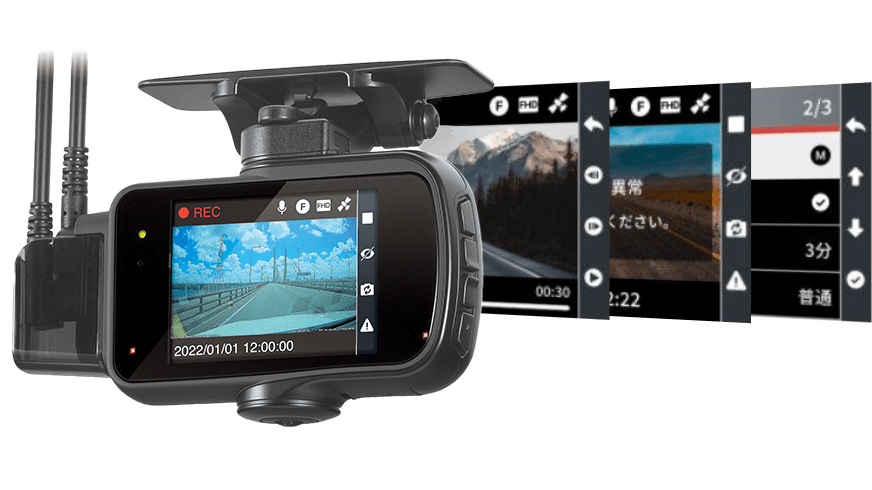 *LCD screen is for illustrative purposes only.
32GB microSD card included
Compatible from 32GB microSD card. A dedicated SD card is inserted into the camera.
The camera will notify you when the SD card needs to be formatted (initialized) due to deterioration or other reasons.
You can use the camera longer by formatting it frequently.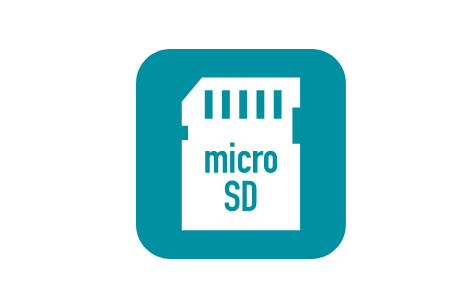 Images captured can be played back simultaneously by 3 cameras using PC software
Free dedicated PC software allows not only simple video confirmation, but also simultaneous playback of three cameras and brightness adjustment of recorded video.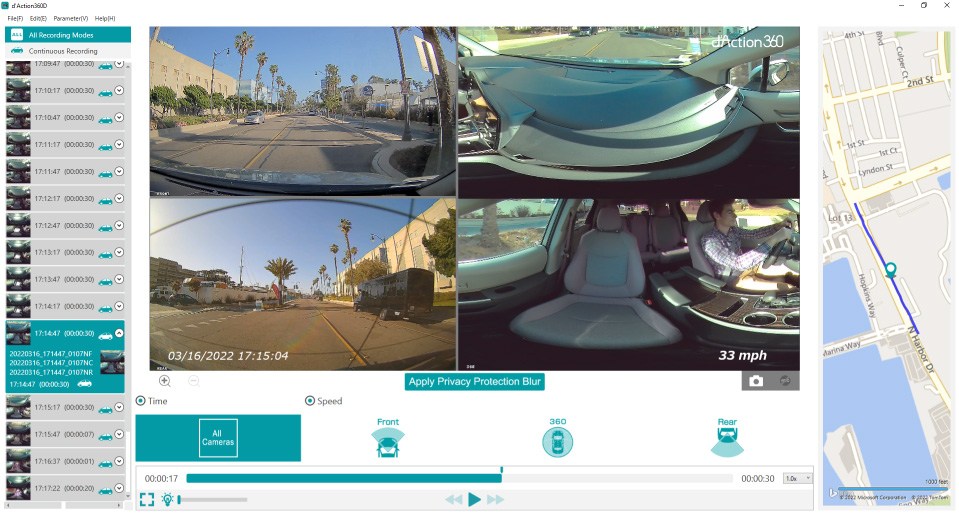 Simultaneous 3-camera playback

Brightness adjustment

Privacy Protection Blur


For privacy protection and other purposes, blurring can be applied to recorded images afterwards. The position and strength of the blur can be freely adjusted.


Basic functions for safe and secure use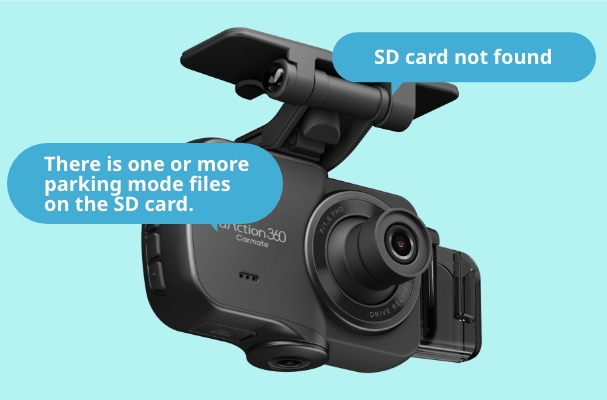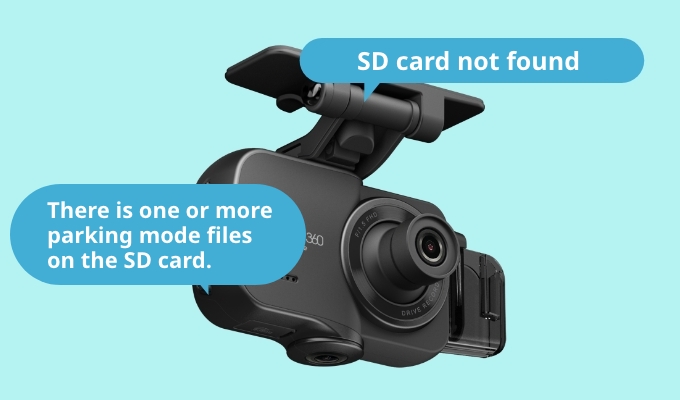 Voice notification
The status of SD card which are difficult to see will be noticed by voice, such as "SD card not found", "Please format the SD card".

Geotagging
By receiving signals from the GPS highly accurate geotagging (geographical identification metadata) is calculated.
*Geotagging may be inaccurate in areas such as tunnels where signal is obstructed.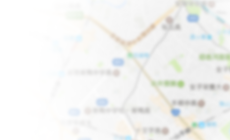 LED traffic lights
d'Action 360 employs a 27.5 fps frame rate to prevent synchronization with the flickering of LED traffic lights, allowing them to be accurately recorded without discoloration.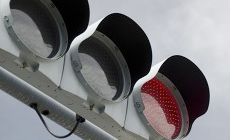 Noise reduction
To prevent electromagnetic disturbances from television and radio, VCCI compliant noise reduction measures have been taken within the camera body.
Built-in G sensor
The 3-axis G sensor detects impacts from all directions, and automatically triggers 360° video recording.
Before purchase
・This Product is not guaranteed to produce valid evidence as proof for any accidents, or to identify any license plate, model or color of any vehicle.
・This Product is not guaranteed to record in all circumstances.
・Please note that Car Mate takes no responsibility for any loss arising from the use or failure of this Product, or from any damage to any recorded video and/or data.
・Do not install the Product on a vehicle equipped with a sliding rear window.
・Cannot be used in vehicles where accessory power is not turned off when the vehicle key switch is turned off.
・Recording performance and time may vary depending on the object being recorded or on the ambient environment.
・Depending on the ambient environment or geographical factors, this Product may not be able to adequately receive GPS signals or receive GPS signals at all.
・Using this Product near a TV antenna may cause a deterioration in the reception sensitivity, flickering and/or noise from the TV set.
・This product is not dustproof, rainproof, or waterproof. To prevent electric shock, fire, or product failure, do not touch it with wet hand, and keep it away from water and other foreign matter.
・If you use a car window sunshade, heat tends to generate around it, which may cause the camera to malfunction or come off. As such, ensure the camera is not tucked between the sunshade and the windshield.
・This product is for use only in Japan, United States, and Hong Kong.
Please follow the local and state laws.
・Installation position requirements and notes
[The mounted camera does not interfere with the driver's vision and operation of the vehicle., The camera is mounted within the upper 20% portion of the windshield., The camera is mounted so that its lens is within the wiping range of the windshield wipers., The mounting tape of the camera mount does not overlap any heated wire printed on the windshield or antenna., If additional security or safety cameras are already in place, the mounted camera should not be within the view of such camera.]
・microSD, microSDHC, and microSDXC are trademarks or registered trademarks of SD-3C, LLC.
・Windows® is a registered trademark or trademark of Microsoft Corporation in the United States and/or other countries.
・Mac and QuickTime are trademarks of Apple Inc., registered in the United States and/or other countries.