Product Information
Mounting location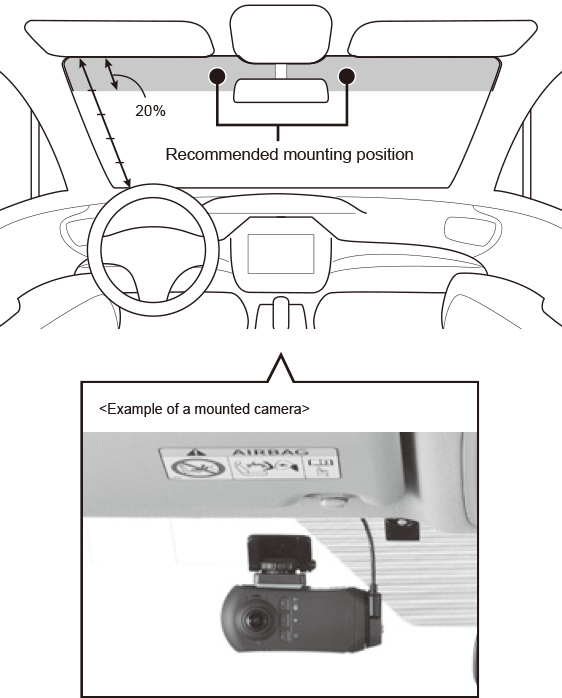 Cautions when mounting
When mounting this camera, ensure to meet all the below requirements.
■

The mounted camera does not interfere with the driver's vision and operation of the vehicle.

■

The mounted camera does not block the rearview mirror, or obstruct the vehicle's airbags.

■

The camera is mounted within the upper 20% portion of the windshield.

■

The camera is mounted so that its lens is within the wiping range of windshield wipers.

■

*The taped part of the camera does not overlap any heated wire printed on the windshield or antennae.

■

If additional security or safety cameras are already in place, the camera to be mounted should not be within the view of such camera.

■

No cable or metallic objects should be between the front windshield and the GPS antenna (see illustration on the right)

■

When using a sunshade the camera is not put between the windshield and a sunshade to prevent heat from storing in the camera.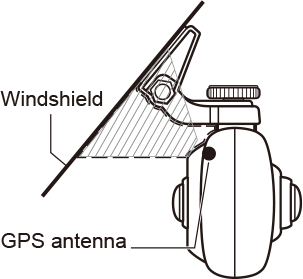 Power Supply
Insert the attached power cable (4 meters) into the cigarette lighter receptacle of your vehicle to supply the power.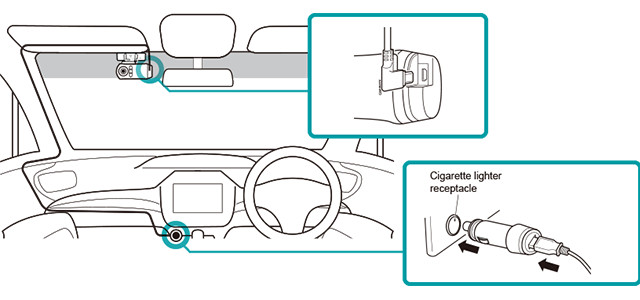 Installing the Parking Option
When using d'Action 360 (DC5000) in combination with the parking option (DC201), obtain power by directly wiring to the ACC of your car, instead of the cigarette lighter receptacle.
*Caution: Do not use DC200 with DC5000.