Optional add-ons
Parking Option (DC203)
When the camera is connected to a vehicle power supply, it is able to operate as a parking monitor even while the engine is off.
Product contents:

Parking Option Unit, One-touch connector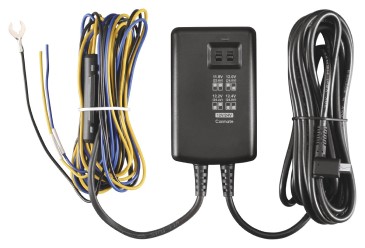 Connect to the camera to enable Parking Mode.
Detect impacts and records automatically.
Voltage monitoring function prevents draining of the vehicle battery.There are four setting values in total.
Selection can be made according to the vehicle and battery condition.
Spec
Compatible camera (Item No. ) 

DC4000R

Power supply Voltage

DC12V/24V

Rated output voltage

DC5V
Maximum consumption current (DC12V)

440mA (Drive Mode recording)

340mA (Parking Mode, Before and After, Recording)

Built-in fuse

2A tube fuse × 2

Battery/Accessory/
Ground Cable length

Approx. 2m (78.8 inch)

Cable length (main unit to front camera)

Approx. 3.9m (153.5 inch)

External dimensions

H:94mm×W:58mm×D:19mm
(excluding cable portion)

Weight

Approx. 300 g (10.6 oz)

Operating Temperature range

-10℃ to 65℃ (14 °F to 149 °F)
Cautions
・Camera is not included and must be purchased separetely.
・Installation of this product should be carried out by a qualified trained technician.
・Vehicle battery condition will differ depending on factors such as vehicle usage and vehicle usage environment. Please set the voltage monitoring function in accordance with the state of your vehicle's battery.
・Impacts are detected by the camera's 3-axis G sensor. Detection accuracy varies depending on the mounted position of the camera unit.
・Car Mate takes no responsibility for any loss arising from the use or failure of this product, or from any damage to any recorded video and/or data.
MicroSD card 32/64/128GB (DC3/4/5)
MicroSD card only for d'Action 360 series 32/64/128GB
Product contents:

MicroSD card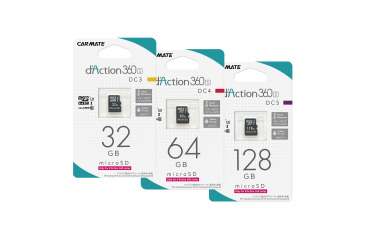 Spec
Heat Resistant

-25~85℃(-13℉ to 185℉)

Shock resistance

MAX500Gs *1
Water Proof

IPX7 *2
*1: Impact resistance up to 500G per second.
*2: IPX7 waterproof level as per IEC529 (washing and drying required)
Cautions
・This product is only for use with d'Action 360D (DC4000R), d'Action 360 S (DC5000) and d'Action 360 (DC3000). Using this product on devices other than those listed may cause malfunction, such as data corruption.
・This product utilizes part of its memory capacity for management domain, etc.
ご購入はこちら